Schools
Veritas - Tuesday's Child visits St. Dominic's High School, Wednesday 21st January 2009
Today Tuesday's Child visited her old grammar school, St Dominic's in Belfast to meet pupils in year 11 and staff. St Dominic's year 11 pupils have been raising money for Tuesday's Child in the run up to Christmas.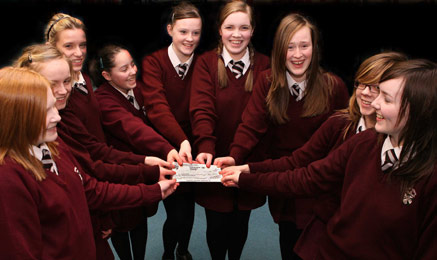 Pupils presented Orla Sheehan, founder of the charity and Peggy Sheridan, one of the trustees with a cheque for £170 raised through cake sales and writing Santa letters. Orla said she was delighted to be back in her old school and thrilled when she hear that St Dominic's had been raising money for Tuesday's Child. She gave a short presentation including what she had been up to since she left school and described where the inspiration for the charity came from in Medugorje, Bosnia. She also outlined the Marian ethos of Tuesday's Child work and the UNCRC human rights of children and young people and gave examples of projects around the world where Tuesday's Child lends a helping hand to children and young people.
Ms Sheehan also asked year 11 pupils to think of three things they were brilliant at. Ms Sheehan's former physics teacher Mr McLoughlin was also present and she noted that Physics was one of the things she was definitely not brilliant at!! Orla said, it is not just about academics, we can be brilliant at being a good friend, a kind and caring person and reaching out to those less fortunate than ourselves.
Tuesday's Child goes back to school again! Thursday 20th December 2007
Maria Gough, Principal of St Joseph's Primary School, Lisburn, welcomed Tuesday's Child back to her old primary school this morning. It hadn't changed at all, although it seemed a lot smaller. Tuesday's Child came to St Joseph's when she was 5 yrs old into primary 2 and it was lovely to be back in her old school. The children put on their Christmas nativity play; it was a real rock and roll version with many budding music stars in the performance. Photos were taken by 9 yr old photographer Conor. A great time was had by all. Other invited guests included representatives from a number of other charities in Northern Ireland such as Trocaire and St Vincent de Paul.
Afterwards, there was a party in Tuesday's Child old primary 3 classroom where she first learned to play the guitar and did a lot of painting...of clowns!! A number of guests remembered Tuesday's Child Mum - Oonagh. "She was very glamorous and great fun and did so much great work for St Vincent de Paul and the missions", said one of the other invited guests. "She was a wonderful Mum and full of simple goodness, I was very lucky", said Tuesday's Child. Maria Gough presented Tuesday's Child with a cheque for £100. All proceeds will go to children in Bosnia- Herzegovina.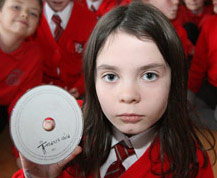 Tuesday's Child goes back to school, Wednesday 6th December 2007
Mr Kieran McTaggart, Principal of St Bernard's Primary School, Rosetta, gave a warm welcome to Tuesday's Child back to her first primary school today. Tuesday's Child met children from primary 4 to primary 7 and showed them pictures of children their age from around the world and photos of what some of their classrooms looked like. Read more »