All the Latest News at Tuesday's Child
Lent 2016
Change for Children
Your loose change could change the life of a child by providing food, water, medicines, shelter, education, shoes, clothes, or somewhere safe to play.

Please help this Lent

All monies donated to children living in extreme hardship in Gaza, Kenya, Nigeria, Uganda, India and child boat refugees rescued from the Mediterranean.
Download our flyer to see how to lodge your loose change at any branch of Ulster Bank »
Appeal for Child Boat Refugees
Tuesday's Child visited Sicily in 2015where, thanks to the help of many good people across the Province, we sent aid items to child refugees helped by Salesian missionaries in Palermo and Catania.
We travelled out to Sicily for the container arriving and to distribute aid to groups helping child boat refugees and refugee families who have settled in Sicily.
To view photo albums click here:
The Good Ship Lollipop – Belfast »
The Good Ship Lollipop – Sicily »
To support projects helping child boat refugees you can donate online at this link »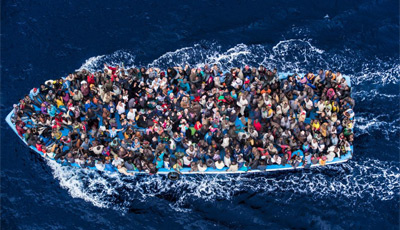 Naval helicopter photo of rescue of migrants of coast of Sicily by Italian navy (with permission)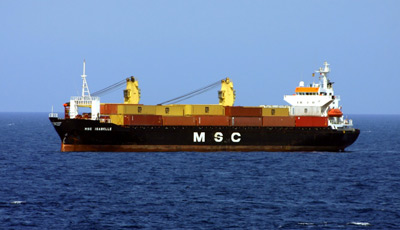 The Good Ship Lollipop en route to Palermo from Belfast
Valentine's Appeal for Children in Gaza
Tuesday's Child helps children around the world living in areas ravaged by war and extreme hardship. For many of us, Valentine's day is the most romantic day of the year, and we spend money, on cards, flowers, chocolate and expensive gifts for the one we love. In our world, however, many little hearts are broken, little children living in areas of the world ravaged by war and extreme hardship. Why not make your Valentine's Day extra special this year and make a gift to touch the heart of a child.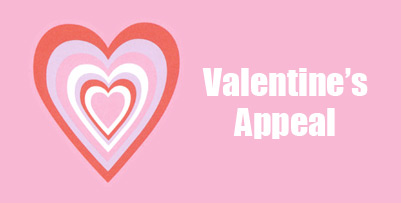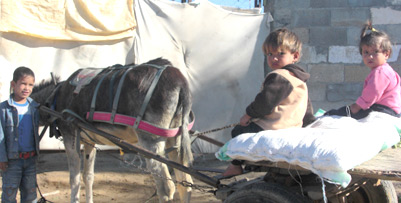 This year our Valentine's Appeal is for children in Gaza who live in terrible conditions, forgotten by the outside world. Gaza, once a main exporter of flowers to Europe, where now hardly a flower grows. You can donate online at this link and leave a message for children in Gaza, if you wish, or text a donation e.g. the price of a rose, or a box of chocolates, to 70070 using the code TUES65 before the amount e.g. TUES65 £5 to 70070. Proceeds will go to buying little gifts for as many children in Gaza as possible.

Donate directly at JustGiving.com »

Pub Quiz in aid of St Daniel's Children's Hospital, Wau - May 2014
Pub Quiz on Friday 9th May in The Drummond House Hotel, Ballykelly, starts 9 p.m. Tickets are £5, great raffle prizes. Quiz master Gareth Peoples. All proceeds to St Daniel's Children's Hospital in Wau, South Sudan.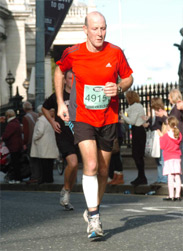 Thinking of running a marathon?
It's marathon season and no better way to get fit while making a difference to the lives of children.
Why not get a team together and walk or run your way to fitness while helping Tuesday's Child.
Loose Change 2014
Your loose change can really make a difference. Just £1 a day could feed a family of 6 children in many of the places we work in. Please consider donating your loose change to Tuesday's Child.
All Ireland Art Competition Winners Announced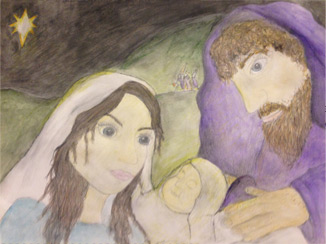 The overall winner of the All Ireland Art Competition is Aoife Harvey from Claudy, Co Derry.

Aoife wins a €1,000 travel voucher from Marian pilgrimages. Winners of each age category receive an olive wood crib from Bethlehem and runners up receive a sketch pad and art materials.


Click here to see a list of all winners and runners up »

View a gallery of the lovely entries received »

Thanks to everyone who entered the competition.

Proceeds of the competition went to children in Gaza.
Emergency Appeal Gaza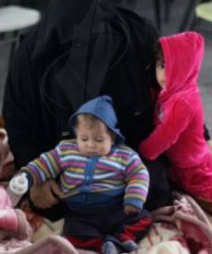 For the last month homes in Gaza have been flooded with raw sewage as ongoing power cuts have resulted in complete failure of the sewage works.

This together with a lack of chemicals to treat raw sewage is causing a health catastrophe. Heavy rains and deliberate opening of dams along the strip have caused widespread flooding in the Gaza strip which together with bitter cold is causing extreme suffering for thousands of families.

Meanwhile the siege of Gaza continues with both borders closed. Food, blankets, mattresses, clothes and medicines are needed urgently. Please help.
To help, donate click here »

Following Yonder Star Christmas 2013

Each Christmas Tuesday's Child gives 3 gifts each to children. Gifts are: party lunch, toy and pair of shoes/trainers distributed on 6th January.

Prices of gifts vary in each country. This year Following Yonder Star will go to children in Gaza, Syria and Kenya. The cost of 3 gifts vary in eachcountry. Syria - £20 (24E), Gaza - £15 (18E), Kenya £12.50 (15E)

Away in a manger – Live crib opens in Belfast


Tuesday's Child's Live Crib opens at 11 a.m. in the grotto at St Mary's in Chapel Lane on Fri 20th Dec '13. Come along and join in the carol singing and meet the animals – Henry the donkey, Emily the goat and baby goat Sparkle.

Children are welcome to dress up as angels, shepherds, kings, Joseph and Mary. The crib will be open through Christmas until Tuesday 7th January '14. Choirs and carol singers also welcome.
Read the Press Release »

Buy a food hamper for a family in Gaza this Christmas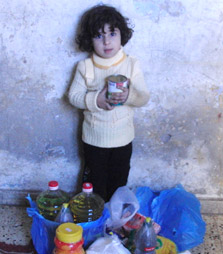 The humanitarian crisis in Gaza continues to spiral. Of the 1.7 million people trapped in this tiny 26 mile strip of land, 50 percent are children.
The world bank recently reported that the Gaza strip is the poorest Arab region after Sudan and Yemen. Food baskets cost £40 (€48). Hampers will be distributed to families on 6th January '14.

Eslam 5 yrs, Gaza city,
with food for her family

Christmas Cards 2013
Share the real message of Christmas with a beautiful card by An Teaghlach Naofa of The Holy Family. Cards are sponsored so 100 % cost of every pack of cards will go to helping poor children and their families this Christmas.
Lge. (pack of 10) - £6 (7E) + £1.50 p&p
Std. (pack of 10) - £5 (6E) + £1.50 p&p
To order your cards please email us at admin@tuesdaychild.org.uk
Loose Change Campaign 2012
Having a Spring Clean? Please support our loose change appeal for children. Every pound or euro you raise we give.
Details on our website at www.tuesdayschild.org.uk or www.tuesdayschild.ie

Spring Into Action for Tuesday's Child
Get active and change the life of a child today.
This week Tuesday's Child funds rescued 200 street children were rescued from city dumps in Nairobi and enrolled in primary school where they get breakfast, lunch and a chance to learn and grow. It doesn't take much to make a big difference. Want to organise your own event? Why not do something in your town or parish to help children in one of our projects around the world. Everything you raise, we give. No salaries, no administration cost, are taken from funds raised.

An Evening with Elvis at The Empire, 27 June 2012
Ireland's top two award winning Elvis tribute acts, Ciaran Houlihan aka Eireann Elvis and Tom Gilson aka GI Blues Elvis will perform at The Empire Music Hall
Tom sings rock and roll hits from the young Elvis, while Ciaran sings hits from the Las Vegas shows. Tickets £10
Elvis Presley was also a Tuesday's Child. Do you know what day you were born on? Find out at www.onlineconversion.com
The Eucharistic Congress, Dublin 10th – 17th June 2012
Want to learn more about Tuesday's Child? Or buy some crafts from our microfinance projects supporting poor families?
Come along and visit us at the Tuesday's Child stall in the RDS this week.

Dublin Flora Women's Mini Marathon (10k), Dublin 4th June 2012
Never done a marathon before? This is a great one for beginners. To enrol in the 10k marathon go to www.dublinwomensminimarathon.com
For a full list of up and coming runs and marathons please visit our website at www.tuesdayschild.ie
The Met Quartet, Strabane 11 May 2012
Dance the night away to fabulous The Met Quartet, Donegal's premier jazz and blues band. The band are playing in Camus Parish's 400 seater Hall. Tickets £10
This is our first event in Strabane and we are really looking forward to it.

Belfast City Marathon, 7 May 2012
Belfast marathon is still open for entries for all fitness levels to the walk, relay, run, wheelchair race and fun run. Why not sign up and raise funds for Tuesday's Child?
We will send you a fundraising pack and T-shirt to help you get started. If you want to get active and make a difference we would love to hear from you. To register visit www.belfastcitymarathon.com.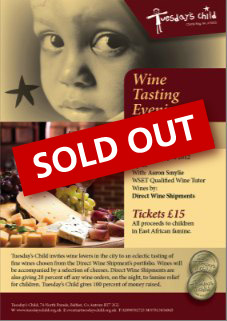 Wine and Cheese Evening, Belfast 27 April 2012
Inviting wine lovers in the city to an evening of wine tasting of wines selected from the Direct Wine Shipments Portfolio.
Come along and taste and learn with local wine tutor Aaron Smylie. Tickets £15
Need to top up your wine rack for summer parties ahead? Direct Wine Shipments are also offering 20 percent off wine orders on the night.
Paris Marathon, 15 April 2012
Tuesday's Child is running the Paris marathon to raise funds for food aid for children the famine zones of Northern Kenya
Please support us at the following link: justgiving.com/TuesdayschildParismarathon
Mission Sunday in Kariobangi, Kenya, Sunday 23rd October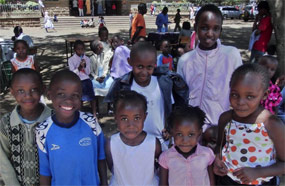 Tuesday's Child joined the celebrations for Mission Sunday today in the parish church of Kariobangi, Northern Kenya. The singing and dancing at mass here is beautiful, so full of joy, with children leading the dancing. Outside the church missionary sisters from different missionary orders share their work with parishioners and children. To view photos click here »
Tuesday's Child arrives in Kenya, Wednesday 19th October
Tuesday's Child arrived in Nairobi, Kenya tonight, in preparation for our visit to food distribution in areas of Northern Kenya. We will travel North to Marsibet for 5 days and then onto Turkana district for 5 days. Roads to Wajia and Dadaab are currently closed because of security risks and flooding, however if the situation improves we will visit these areas also.
Children of East Africa Appeal
Drought, war and increasing food costs have brought starvation back to East Africa and an estimated 10 million people face famine. These are the worst droughts in 60 years. With no rain, there are no crops and livestock are dying.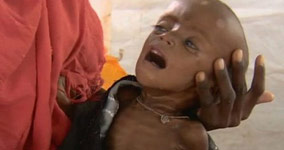 People are leaving Somalia and walking south for hundreds of miles in search of food and water and children are the most vulnerable. Some children didn't survive the journey, others lost their families along the way and each day about 1200 malnourished children arrive in refugee camps, exhausted, dehydrated and simply starving.
More than half of the people in the camps are children under 11 years old and overcrowding is bringing further health and sanitation problems. Tuesday's Child needs your help to provide food-aid to these children. We give 100 percent of donations received.

Please pray for children of East Africa Monday 17th October 2011
Kenya invaded Somalia today in an attempt to overpower militant groups involved in a spate of kidnappings, including two aid workers from the aid agency Doctors without borders. The outbreak of war will bring further misery to hundreds of thousands of children already facing starvation, disease, homelessness. It doesn't get any worse than this. Please keep the children living here in your prayers in their struggle for survival.
Holy Rosary Know Your Parish Activities Day 2011 Sunday 16th October 2011
Tuesday's Child joined clubs, societies and charities today at the Holy Rosary Parish information day organised by Maria Duggan. Thanks to everyone who bought merchandise at our stand raising £179 on the day towards our fund for children on East Africa. To view photos click here
Hello again to the street children of Mostar Thursday 16th October 2011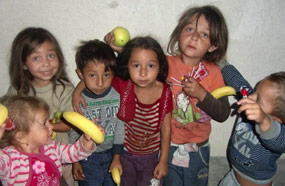 Tuesday's Child visited another camp on the outskirts of Mostar this evening. The camp is home to street children. These children do not get to go to school, their education is begging on the streets of Mostar. Many of these children learn to beg before they learn to talk and are marginalized by local society because they are Romani. There is great excitement as we drive into the camp. Thanks to John from Belfast for his help distributing food parcels, fresh fruit, sweets and nappies and nappy cream. A strategy is needed to break their cycle of poverty and enable children to go to school. To view photos click here »
Antrim and Derry pilgrims help families in Mostar camps Wednesday 12th October 2011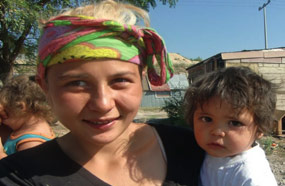 Tuesday's Child returned to visit camps on the outskirts of Mostar today, home to street children of Mostar today. These families are among the most marginalized in Bosnia-Herzegovina and get no support or assistance because they are Romani. No government grants here! We spent 4 days preparing and bringing sacks of food and other essential items to families in the camp. Thanks to the Medjugorje pilgrims from Toome, Duneane, Maghera and Cookstown who helped raise funds for the food purchase and helped with packing and distribution. Children in 84 families living in 4 camps received assistance. To view photos click here »
International Peace Day, Belfast Wednesday 21st September 2011
Tuesday's Child joined the International Peace Day event today in Forestside, organised by CADA. Edel McCormick managed the Tuesday's Child stall and thanks to everyone who bought our merchandise on the day. A great day of music and fun with lots of local interest as well as some famous celebrity cooks.
International Aid Development Day at Stormont Thursday 16th September 2011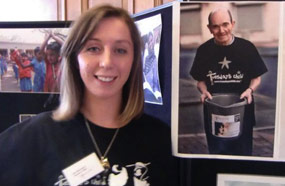 Tuesday's Child joined a number of Northern Ireland charities today for a networking event at the International Development Day at Stormont. The day was organised by CADA and Jim Wells MLA represented Stormont ministers. The joint ministerial meeting was attended by the UK and Irish ministers for International Development, Alan Duncan and Jan O'Sullivan, each of whom purchased a copy of Tuesday's Child's double music album. Other charities present included: Oxfam, Concern, Trocaire, Serve, Beyond Skin, War on Want NI, Fields of Life, Christian Aid and Asconi. To view photos click here »
In memory of Sister Helen Wednesday 14th September 2011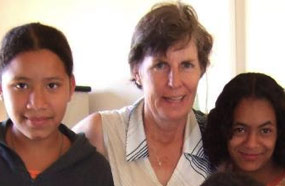 Sr Helen from Ballyhaunis, Co Mayo, lived her work, choosing to live in the shanty villages of Sao Paulo with the people she loved and served. She was sometimes known as The Florence Nightingale of the shanties. Tuesday's Child was delighted to fund some of her projects to promote justice for children in her patch of the world. Much of the proceeds of our sales of the Tuesday's Child double album of Irish music went towards supporting Helen's Bem Me Quer project. It was also because of Helen, we came to Gaza. Helen has left a wonderful legacy of love and devotion for the communities she served; they will miss her dearly, especially the children. To view some photos of Sr Helen's work click here »
Sr Helen Regan RIP Monday 12th September 2011
Tuesday's Child is deeply saddened to learn of the death of Sr Helen Regan, co-ordinator of the Bem Me Quer programme for children living with, or affected by HIV, in Sao Paulo. Sr Helen lost her battle with cancer on 10th September 2011. Sr Helen was a remarkable woman who gave her life to working with children of the shanty villages if Sao Paulo. "May He support us all the day long till the shades lengthen and the evening comes and the busy world is hushed and the fever of life is over and our work is done. Then in his mercy may He give us safe lodging and a holy rest and peace at last" (Cardinal Newman). Rest in peace Helen.
To Chile with love from Belfast Tuesday 2nd August 2011
Tuesday's Child received a fabulous £10,000 donation for children and young people in Chile, today. Funds will go towards rebuilding a community centre for children, young people and families in the village of Sagrada completely destroyed in the Chilean earthquake of January 2010. The group leading the project in Chile are The Presentation Sisters and they are simply delighted to receive these funds towards this essential project for the local community. Photos from Chile coming soon. If you are interested in supporting the project in Chile please get in touch at admin@tuesdayschild.org.uk
No planes for aid for East African famine! Tuesday 26th July 2011
Over the last 24 days Tuesday's Child has contacted main airlines flying into Nairobi to request free airlifts of aid to children and their families facing starvation in East Africa. All of the airlines we contacted either refused assistance or did not acknowledge our request. We have also written to the Irish government and to Stormont requesting facilitation of emergency airlifts. We are keen to repeat the success of our three airlifts to Pakistan last year with Pakistan airlines, but so far we have had no joy. "It is a tragedy that not one airline has responded quickly to this famine which has already claimed the lives of 35,000 children and is estimated to affect up to 10 million people. So many people across the Province are so keen to do more for the children of East Africa", said Orla Sheehan of Tuesday's Child. Fair play to British Airways, who announced today that they are at least opening their airline for the first two weeks in August for free carriage of aid and aid workers for Oxfam and Unicef.
Belfast to Knock Walk Wednesday 20th July 2011
Tuesday's Child joined the Belfast to Knock walkers again this year to raise funds for our projects and to to pray for children of East Africa. We had beautiful weather for walking across 5 counties in 5 days and the craic was mighty. Everyone should take time out and enjoy this lovely walk. We raised £1575 for food for Somalian children. Thanks to everyone who donated including motorists who stopped along the route. "Walking across Ireland, our thoughts and prayers were with the hundreds of thousands of families exiting Somalia for refugee camps in Northern Kenya on their walk for survival", said Tuesday's Child.
Famine returns to Horn of Africa Sunday 3rd July 2011
News, today, of a devastating famine returning to the Horn of Africa. Millions of people are at risk of death from starvation and as in any natural disaster children are among the most vulnerable. The crisis unfolding is in East Africa is due to severe food shortages culminating from drought, war and rising food costs as starvation strikes an estimated 10 million people in Ethiopia, Somalia and Kenya. Tens of thousands of children are suffering from malnutrition. The Independent on Sunday reports...http://www.independent.co.uk/news/world/africa/starvation-returns-to-the-horn-of-africa-2306001.html
Summer BBQ and Traditional Music Night at The Crosskeys Inn Saturday 18th June
Thanks to everyone who came along and supported our event in The Crosskeys Inn last Saturday night. We had great fun, really enjoyed the craic and hope you did too. Thanks to The Crosskeys for the great food and hospitality and to the musicians and to everyone who bought a ticket and helped raise £2170 towards our monthly food programme for children in Gaza. We had some fabulous raffle prizes from businesses in Randalstown, Toome, Portglenone, Belfast and friends of Tuesday's Child.
To view photos from the summer BBQ click here »
Help for Hani Tuesday 7th June 2011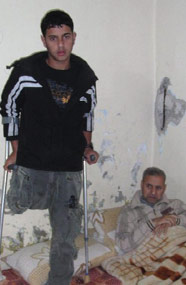 Hani is 16 years old and lives in Jabalyia refugee camp, Northern Gaza. He lost his leg in an airstrike on 27 December 2008, the first day of Operation Cast Lead, the day on which the greatest numbers of children were killed in the Gaza war.
He was running home from school when he was hit. Two and a half years on, he still needs an artificial limb. He did not return to school as he finds it difficult coping and stays at home with his father, who is very ill. Hani needs funds for medicines as well as a limb.
Can you help? If so please get in touch at admin@tuesdayschild.org.uk and mark your email Hani.
Tuesday's Child visits Vares Orphanage, Northern Bosnia-Herzegovina Saturday 28th May 2011
Tuesday's Child visited an orphanage in the war-torn town of Vares in Bosnia today. Vares, one hour's drive north of Sarajevo, was formerly a thriving mining town. Vares was destroyed by Serb fighters before the end of the war and even now, years on, the mine and factories lie empty. Unemployment here is 90 percent and an air of sadness looming over the town. In the middle of the town, a little oasis of peace, joy and hope – an orphanage for children run by Franciscan sisters. The children enjoyed receiving their toys from Tuesday's Child and we left a donation from Irish donors for them. The orphanage is greatly in need of funds for heating oil for the winter. If you can help this orphanage please contact us at admin@tuesdayschild.org.uk To view photos of Vares and our visit to the orphanage click here »
Tuesday's Child returns to Mostar camps in Bosnia Herzegovina Wednesday 25th May 2011
Tuesday's Child returned to visit children living in camps on the outskirts of Mostar this week with food hampers for families, goodie bags for children and babies and nappies for children. A big thanks to all the Medjugorje pilgrims who helped with the hampers and their distribution. To view pictures of the food distribution click here ».
Belfast City Marathon Monday 3rd May 2011
Tuesday's Child joined thousands of other runners and walkers in the Belfast City Marathon today and finished the walk 26 mile walk in 7 hrs 35 minutes. It was a beautiful day and great to see so many people out enjoying the sunshine and raising money for good causes. If you are interested in doing a marathon for Tuesday's Child, please get in touch at events@tuesdaychild.org.uk. It's a great way to kick start your fitness programme and make a difference to the lives of others. To view photos click here »
Important disclaimer Tuesday 26th April 2011
Tuesday's Child wishes to state that we have no association with a video made by an organization calling themselves Truth Justice Peace and linking to Tuesday's Child for donations. The video focuses on a little girl we launched an appeal for back in January. The information in this video is infactual. We have asked this group to remove their link to Tuesday's Child since we were first made aware of this video in January and they have refused. We have received hate mails, threats and public statements have been posted on facebook and the internet by this group in an attempt to discredit our work for children in Gaza. This unprovoked attack on Tuesday's Child will not deter our humanitarian efforts for children in Gaza.
Meeting the Awajah family again Thursday 21st April 2011
Tuesday's Child's aid team in Gaza visited the Awajah family in Gaza city today with food coupons and financial support. We first met the Awajah family in one of the camps in Northern Gaza in July 2009, 6 months after the Gaza war. They lost their son and their home in the war. We are delighted to learn the family now have a small apartment. We got back in touch with the Awajahs through Jenny Marlowe. Jenny is a film-maker from Canada and filmed their story "One Family in Gaza" earlier this year. To view photos click here »
Two more Mother's Day parties for children and their Mums in Gaza Tuesday 19th April 2011
Tuesday's Child hosted two more parties for children in Gaza today in Beit Hanoun and in the Middle Area. The parties were originally planned for the week of 29th March to celebrate Mother's Day, but were post-poned due to incursions into the Gaza strip in which a number of children were killed and injured. The children had a great time at the parties despite all the recent violence in the Gaza strip. To view photos click here »
Tuesday's Child Pub Quiz, Magherafelt Friday 15th April 2011
Thanks to everyone who came along to our pub quiz in The Terrace Hotel in Magherafelt tonight. Also to all the businesses in Magherafelt who donated fabulous prizes for the evening and those who sponsored the night. Thanks also to the quiz master Jarlath McKenna and the auctioneer Michael O'Kane. The event raised £2700 towards Tuesday's Child projects. To view our programme for the evening click here, to view photos from the evening click here »
Mother's Day party for children and their Mums in Gaza Tuesday 29th March 2011
Tuesday's Child had a party for 200 children in Gaza today for Mother's Day. Each child received lunch, a toy and colouring book/crayons. There was lots of fun – traditional dancing, singing, clowns, face painting and Charlie the panto horse was a big hit again. Each of the children was also given a little gift, a purse or scarf, to give to their mother. On each of the gift bags "Bakebah ya Mama" – arabic for "I love you Mam". These children wouldn't have any pocket money to buy gifts for their mothers and they wre just thrilled to have little presents to mark the occasion. Such a wonderful day. The party was funded by part proceeds of our Christmas Art Exhibition in Belfast. To view photos from the party click here »
Thank you from Areej Monday Tuesday 15th March 2011
In December, we launched an appeal on facebook for a little girl called Areej who was badly injured in the Gaza war by white phosphorus and suffered extensive burns. Thanks to everyone who donated. Monies raised will go towards buying Areej's monthly medicines and getting her things every little girl should have. We visited Areej and her family yesterday and Areej made a thank you card for everyone who has sent their good wishes and supported her. The appeal for Areej is now closed. View photos click here »
Tuesday's Child joins in the GLU fair Saturday 5th March 2011
What a fun day we had at Ormeau Road's GLU fair this week-end. Well done to GLU Belfast for organising such a fabulous event. Thanks to everyone who supported our Tuesday's Child stall. If you didn't get along, you can still purchase our merchandise from our website store.
Tuesday's Child party for children of Ni'lin Tuesday 2nd March 2011
Tuesday's Child had a party for 400 children in the village of Ni'lin in the West Bank last week. Each child received a present, cake and juice. There was lots of fun, traditional dancing, hand painting and a movie. Gifts for children were purchased with part proceeds of our Christmas Art Exhibition in Belfast. A big thanks to our Tuesday's Child co-ordinator for giving the children a lovely day.
I Shall Not Hate Thursday 29th February 2011
Tuesday's Child met with Gazan physician, Dr Izzeldin Abuelaish in Dublin yesterday. Dr Abuelaish was in Ireland to launch his book "I Shall Not Hate" written in memory of his 3 daughters Bessan, Aya and Mayar who were killed when their family home in Jabalyia was heavily shelled in January 2009 during Operation Cast. Many believe Dr Abuelaish's live broadcast on Israeli TV, minutes after the attack on his family brokered the ceasefire 2 days later. Dr Abuelaish is a bridge of hope between Palestinians and Israelis and truly an ambassador for peace. Proceeds of the book will go to Daughters for Life, a charitable foundation, in memory of his 3 daughters dedicated to providing educational scholarships to children in the Middle East. A remarkable story and a must read. If you buy one book this month please buy "I Shall Not Hate", available from most bookstores at £12.99
Fleming Fulton School Pennies from Heaven for Tuesday' Child Friday 25th February 2011
Tuesday's Child was nominated by Fleming Fulton School in South Belfast as one of the beneficiaries from their fabulous Pennies from Heaven fundraising campaign. Pupils raised a fabulous £3400, shared between 6 local charities. The dynamic senior year co-ordinated the appeal, distributing 250 plastic bottles to school pupils, staff, family and friends to fill with pennies in the run up to Christmas 2010. Deputy Head Girl Maria Miskelly said "We had loads of fun running the Pennies from Heaven appeal". Orla Sheehan from Tuesday's Child gave a presentation on the work of the charity, in different countries around the world and was presented with a cheque for £550. "Congratulations to all the pupils on the fabulous total raised. We are delighted to receive this donation from the pupils and staff of Fleming Fulton school and will be sending funds to a school for blind children in Gaza city, to assist their transport to and from school", said Orla, who later joined pupils from the senior class for tea and biscuits in their classroom.
Viscka visits Dublin Wednesday 16th February 2011
Tuesday's Child attended the RDS in Dublin this afternoon for Viscka's talk. Viscka is one of 6 villagers from Medjugorje, Bosnia-Herzegovina, who receives apparitions from Our Lady. The apparitions first started in June 1981 when Viscka was 15 years old. Viscka is one of three visionaries who still receives daily apparitions and holds 9 of 10 secrets given to her about the future of the world. Her message is prayer and peace. At 5.40 local time, Viscka dropped to her knees and had her daily apparition in front of a crowd of thousands of people. The message from Our Lady is the need for prayer and peace and dedicated prayer for the children and young people of Ireland. It was a pilgrimage to Medjugorje in May 2006 that inspired the work of Tuesday's Child. Viscka will also be interviewed on The Late Late Show in Dublin this coming Friday night.
One Family in Gaza Monday 11th January 2011
Tuesday's Child was delighted to view a film made recently by Canadian film maker Jen Marlowe. The film focuses on the plight of one family and is simply called "One Family in Gaza". We met this family six months after the war when they were living in a camp in Latatra. We are delighted to learn the family have now moved to an apartment and are rebuilding their lives. Such a beautiful film and captures the heartache of a family living through war. Like thousands of families trapped in this 25 mile slither of land, they have no interest in politics and simply want peace and a future for their children.
A poem for twelfth night - What The Donkey Saw Thursday 6th January 2011
One of our donors Roseanne from Belfast gave Tuesday's Child this little poem on New Year's Eve. We thought we would share it with you on this Twelfth Night along with a painting of "The Bethlehem Donkey" kindly donated to Tuesday's Child by John Smith, one of the artists exhibiting at our Christmas Art Exhibition in Belfast last month
"What The Donkey Saw" by U. A Fanthorpe
No room in the inn, of course
And not much in the stable,
What with shepherds, Magi, Mary,
Joseph, the heavenly host -
Not to mention the baby
Using our manger as a cot.
You couldn't have squeezed another cherub in
For love nor money.
Still, in spite of the overcrowding,
I did my best to make them feel wanted.
I could see that the baby and I
Would be going places together.
Happy New Year Saturday 1st January 2011
Happy New Year to all our friends and donors! May the peace and light of Christmas be with you all and 2011 through. New Year greetings to all our partners around the world! Most of all, our best wishes to the children we have come to know and love and all the children we are still to meet in 2011. Today on this World Day for Peace, we wish each of you love, peace, joy and justice and that you may grow in God's love wherever you are planted. We pray that all citizens will recognize that every child is equal and every child matters and that leaders of every nation will work to put the human rights of children first and promote a better world for children.
Click for an Archive of previous news items »
View more press releases here »