About Tuesday's Child
Tuesday's Child is dedicated to bringing hope to the most vulnerable of children, regardless of their nationality, circumstance, gender or beliefs. Our vision is that all children can live and grow to their fullest potential in a world free of injustice, where children can simply be children.
Many children throughout the world live in conditions where their human rights are in breach. Access to fundamentals such as food and water, health and well-being, education, play and leisure, safety and justice is a struggle for many. It is estimated that 200 million children under the age of 5, live in extreme poverty, with little or no hope. Our hope is to help at least some of these children.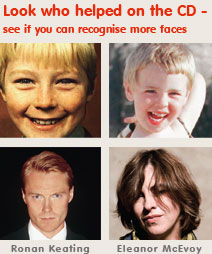 In the same way we cannot choose the day on which we are born, we cannot choose where we are born or the circumstances into which we are born. Similarly, we cannot plan for major life-changing events such as war and hunger that can turn happy childhoods into a living nightmare.
Tuesday's Child was born in Bosnia-Herzegovina in October 2006. We first helped children in Mostar, the frontline of the former Bosnian-Serbian war. We are now fundraising to support children in 12 countries worldwide as well as at home. We try to bring light into the darkness of children's lives, giving them hope and a helping hand.
In Ireland too, children are living in conditions where their human rights are in breach, often failed by the systems within which we live. Bullying, sexual abuse and discrimination are all too common headlines. Children with disabilities are often particularly vulnerable. Tuesday's Child is committed to helping children at home as well as abroad. As a society, we need to start putting children first and listen to what they have to say if every child is to fulfil their potential.
Most children play fair, it is the world that doesn't. Let the child in each of us reach out to make the world a better place, and in turn, teach our children to share the light.