Press Office at Tuesday's Child

Irish Stars Sing Out for Suffering Children in Gaza
Tuesday's Child announces all-star gigs for emergency relief of Palestinian children
EVENT GIGS FOR CHILDREN IN GAZA
VENUE VICAR ST.
DATE FRI 6TH & SAT 7TH FEBRUARY 2009
TIME 8pm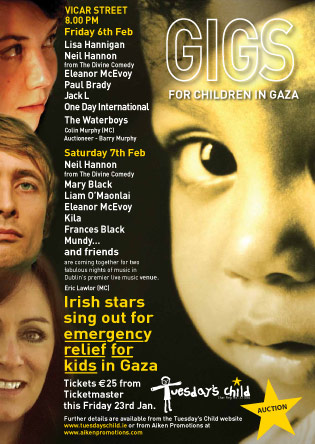 Some of the biggest names in Irish music are teaming up with the Irish-based children's charity Tuesday's Child to aid suffering children in Gaza.
Lisa Hanningan, Neil Hannon, Mary Black, Liam O'Maonlai, Eleanor McEvoy, Paul Brady, Kila, One Day International, Frances Black, Mundy and friends will perform over two fabulous nights of music in Dublin's premier live venue, Vicar St. The musicians, who are donating their time and talents for free, will be singing their hearts out on behalf of children whose voices have been drowned out and tragically silenced by this most violent of wars.
The Divine Comedy's Neil Hannon, playing two nights, said: "I am delighted to have to have the chance to show my support for Tuesday's Child and their brilliant work in Gaza. The firing of rockets by Hamas into Israel is horrible and indiscriminate. The all-out-war waged by Israel on the men, women and children of Gaza has been utterly horrific, wholly disproportionate and tantamount to a war crime. When will the world's leaders stop talking and start acting to prevent the needless deaths of more children".

Lisa Hannigan is fitting in the gig despite flying out to start a five-week tour of the US on Sunday morning. "I am very honoured to be involved with such a wonderful project, Tuesday's Child is bringing hope and care to those most vulnerable" said Lisa, who has been nominated for the Choice Music Prize.
Mary Black said: "I am glad to be able to do something to alleviate the terrible suffering that has been inflicted on Gaza and, at the same time, to highlight the grave injustice that has been suffered by so many children and innocent people".
Liam O'Maonlai, truly offended by the atrocities in Gaza, said: "There is no excuse for the bombing of innocent people. We are witnessing a creation of hell. I don't believe weapons are the answer on any side. The real war is in the mind and the heart. Music is the greatest gift we have as human beings. It connects us and brings us together. Music heals. A lullaby can send a child to sleep…".
Many other musicians from across Ireland who are touring and cannot make the gigs, have sent messages of support and donated auction prizes for both evenings.
Tuesday's Child has been feeding starving children in Gaza since November 2007 and supports three primary schools in the Strip. The charity, inspired by a Marian pilgrimage to Medugorje in May 2006, promotes justice for every child and donates 100 percent of proceeds. The charity has adopted the UN Charter of Children's Human Rights (UNCRC) but recognises that the declaration has failed the children of Gaza for years.
Tuesday's Child founder Orla Sheehan, who produced the all-star Tuesdays Child fundraising album last year, said: "We are devastated by the recent conflict in the Middle East and the slaughter of so many innocent children and young people. I visited the strip in September 2008 and have never witnessed a violation of human rights like Gaza. The injustices these forgotten children face are cruel beyond words. Their little lives were already so fragile and hanging on by a thread. They were suffering dreadfully, even before this invasion. Since 27th December, some of the children we were feeding have been killed; others have died slowly of starvation and dehydration. Hundreds of others are seriously injured, many are orphaned and have lost siblings and thousands have been left homeless. Some we cannot locate. No child in this conflict will be left unscarred. The greatest tragedy of all is that this war has the potential to make the world an unsafe place for many more children around the world."
Children in Gaza are living through a nightmare no adult should ever experience. Speaking from Gaza city, Tuesday's Child aid co-ordinator of the feeding programme said: "In my worst dreams I've never seen it as bad as now…you can't imagine the situation. People killed lying in the streets for few days and bodies eaten by dogs. Bits of body everywhere…and children all silent, all in shock."
Tickets for the events are 25 Euro and go on sale from Ticketmaster this Friday. All proceeds will go towards the Tuesday's Child emergency relief fund for food, water, milk, medicines, mattresses and blankets, which was launched on New Year's Eve. Further details are available from the Tuesday's Child website www.tuesdayschild.ie or from Aiken Promotions at www.aikenpromotions.com
For further details please contact Orla Sheehan on 07813 834045 or email orla.sheehan@btinternet.com or the charity email info@tuesdayschild.org.uk