Child Scavengers of Nairobi
A special report from Tuesday's Child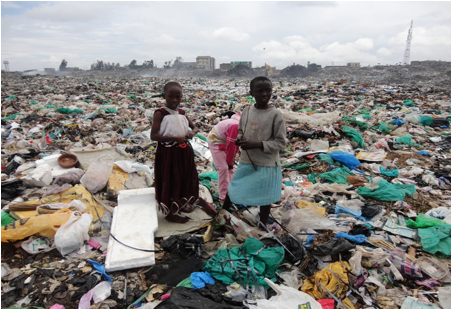 Child scavengers sifting through rubbish at Dandora dump, Nairobi
In October 2011, while preparing for aid trips to the famine zones of Northern Kenya, I stayed with missionaries in Kariobangi parish, Nairobi, home to 600,000 people. The parish is 2 miles from the city centre and borders Dandora dump, a 30 acre rubbish heap, where child scavengers compete daily with adults, pigs and vultures for scraps of food. Walking through the dump, it is hard to witness human beings reduced to scavenging for survival. The smell is hard to bear and the acrid smoke rising from burning piles of rubbish catches my breath.
Every few days, garbage trucks arrive dumping large loads of city waste. Scraps from meal trays of international flights into Nairobi also end up in Dandora and men trample over women and children for these "luxuries". The dump means survival yet health hazards bring illness and death. Food poisoning and dehydration are common and children have dangerously high levels of lead in their blood. Mothers and their children work here for up to 11 hrs per day in impossible conditions under a blistering heat. The most sought after item are: plastic bags, rubber, bits of metal, electrical parts and meat bones, washed in a local river, heavily polluted with toxins and sold along the side of the road.
One of the main health risks is a lack of clean drinking water. Money promised to the parish priest from a leading charity for a water bore holel never filtered through and desperate to provide clean water to an area dogged by deaths of dehydrated children, he borrowed funds from a local finance company to drill for water. Still unable to meet the loan, when money pledged never came, the company threatened commercialisation of his precious water supply. Thanks to Tuesday's Child donors we raised funds to continue to pump cleaning drinking water for the parish.

Lack of clean drinking water poses a serious health risk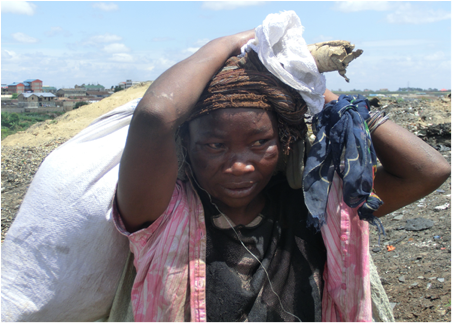 Mary 42 yrs, spends on average 11 hrs a day here scavenging for items to sell and for food scraps
One of the women I meet in Dandora dump is Mary. She is carrying her load of picked items in rough sacks tied together on her back, her face soiled from the smoke. She has a bad cough and her 10 kg load she has collected today will fetch her 0.30 E. She has been beaten around the face, either in the scramble for picking, or at home. She explains she has TB and is desperate for a place for two of her children in a school.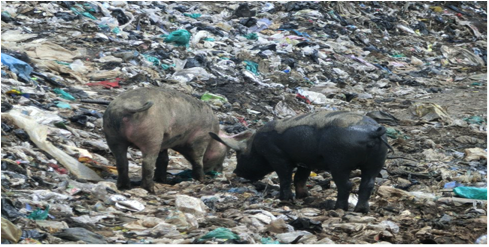 Pigs scavenge for food here also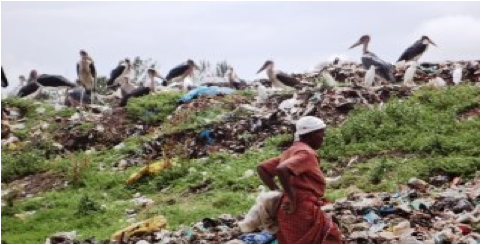 And large scavenger birds

Apart from the daily struggle, the parish is vibrant and groups of missionaries collaborate in their witness to the Gospel to feed the hungry. While their combined apostolate is one of continual firefighting there are great fruits. The Franciscan missionary sisters of Africa have so far rescued 1300 child scavengers from the dump and enrolled them in primary schools of St Clare and St Francis. At school they receive breakfast of porridge and lunch of rice and beans daily. Some classes may have up to 100 children, but the chance of education is a lifeline, puts food into tummies and keeps children of the streets. Thousands more children are in need of rescue. Often children are abandoned on the church steps as parents simply cannot afford to feed them.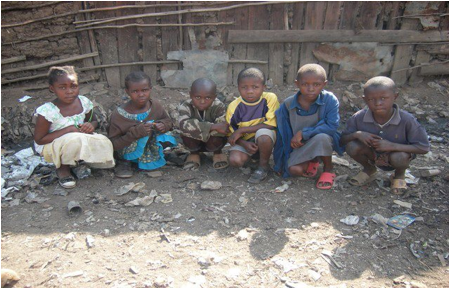 Waiting for a place at school

In one Kariobangi school I visited, a large wall mural advises children on how to avoid human trafficking. Hungry children wander to the wealthy parts of the city and disappear, sold into forced labour or as sex slaves. The latest horror is human organ trafficking where the poorest of children are stolen for their organs. Local parish priest Fr Paulino Mondo, a Ugandan Comboni father, said "The children are the first and easy victims. Someone calls to them with food and clothes and befriends them. They wash and dress them, bring them gifts to gain their trust, then sell them on to organ hunters". Another group of children in dire need are the so-called "glue boys". These children sniff glue or anything they can find to lift them into temporary oblivion. They also wander off for food and disappear. One child I saw, walking through traffic begging for food, bouncing from car to car. He was ragged and wearing a dusty adult overcoat that almost reached his bare feet. The Comboni fathers in Kariobangi have opened a new school St Martin de Pores in a slum called "Ghetto". Already 611 children are enrolled here and funds are needed to continue the work.

Tragically, there is enough food in Kenya to feed every child here. Just a few miles from Kariobangi the wealthy part of the city boasts palatial villas and shiny shopping malls with every type of food product available albeit at European prices. A corrupt government and greedy corporates ensure that much of the food grown in Kenya is exported. One memory that will stay with me is driving through the vast pineapple fields to the Somalian border, where naked children live in little shelters made of twigs and plastered with bits of card board. Meanwhile, people fly to Kenya from all over the world, many first class, to go on safari trips to the large nature reserves where animals are so well cared for. Most who fly into Nairobi, will never know of the hidden poverty of the city. Those that challenge the government on it have lost jobs and livelihoods.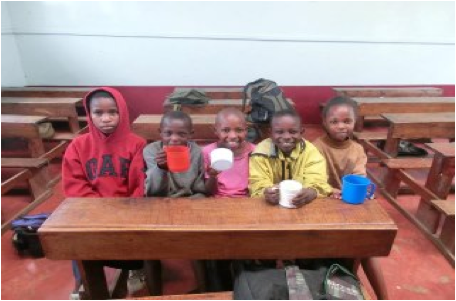 A place in school makes all the difference
The charity I work for is called Tuesday's Child, inspired on a pilgrimage to Medjugorje in May 2006. Everything we do is All Through Mary for the Child Jesus. We take no salaries and administration costs are covered by a local sponsor. We work directly or in partnership with missionaries, who like us make essential funds go a long way. If you can help the children of Kariobangi parish please email us at info@tuesdayschild.ie . We give everything we receive.
Orla Sheehan
Tuesday's Child
If you are in a position to help any of the families we met during our time in Nairobi, please contact us at info@tuesdayschild.co.uk or donate online here »